November 2019 | Volume 21 No. 1
Europe's Dirty Money Problem
The European Union (EU) likes to present itself as a paragon when it comes to regulating banks and keeping corruption at bay. But recent high-profile cases suggest otherwise. Dr Roland Vogt has been investigating the EU's problems with money laundering, organised crime and terrorism.
In September 2018 the world's largest money laundering scandal was revealed and it was shockingly centred on regulated banks in Europe. Some US$230 billion – yes, billion – was laundered from Russia, Azerbaijan and other dubious sources through Estonia, using Danish and Swedish banks. The problem only came to public attention through a media investigation.
Meanwhile, in an unrelated case, the European Central Bank (ECB) revoked the license of Malta's Pilatus Bank in November 2018. The bank's chairman is the son of an Iranian construction tycoon who had no prior banking experience and who served clients in Azerbaijan, Iran, Venezuela and the like. The ECB acted only after he was arrested on money-laundering charges in the US.
To Dr Roland Vogt of the School of Modern Languages and Cultures, these cases illustrate the hypocrisy of the European Union (EU). He had been researching how the EU pressured Asian jurisdictions to follow European regulatory standards on money laundering when the present cases came to light.
"There was an effort to tarnish Hong Kong and Singapore as dirty, and it was very successful. Over the last decade, those jurisdictions have done a lot to clean up their operations," he said. "But over the last two years, we've seen huge scandals in the EU itself."
Moreover, these scandals pose a security challenge because money laundering is closely linked to organised crime and terrorism. This inspired Dr Vogt to investigate further, drawing on documents from the recent cases and interviews with politicians and others on the ground. He has identified several significant weaknesses in the European regime.
Europe's weak spots
One is 'state capture', which arises in smaller jurisdictions that have only a few banking experts who move back and forth between banks and regulators. For example, some of the top managers of Danske Bank, Denmark's largest bank, previously worked in the Estonian subsidiary and later took up positions with the Danish regulator. "Why would they investigate themselves? That is the problem of state capture," he said.
Similarly, in Malta there were cosy connections between Pilatus Bank and government officials. The Maltese prime minister and his chief of staff attended the wedding of the bank's chairman, and the chief of staff opened an account with the bank.
Another weakness is 'state capacity'. European member states generally struggle to deal with the money laundering and terrorist financing carried out by organised crime and terrorist networks, despite abundant resources.
In Germany, for instance, the responsible agencies are understaffed and under-resourced and have a backlog of 30,000 to 40,000 cases. German security forces have also been slow to recruit people who speak the languages of Russia, the Kurdish regions, Kosovo and the Middle East, from where organised crime has been imported.
"The German domestic security architecture was created basically to prevent the rise of right-wing, Nazi extremism. But now this is totally inadequate to deal with the challenges the country is facing," Dr Vogt said.
Other member states also suffer from a lack of centralised databases and security systems, apart from Italy, which has not experienced any major Islamist or right-wing terrorist attacks and has a long history of dealing with organised crime. The country takes a tough approach on terrorist threats, including deporting people deemed dangerous.
Economic impact
The impact of Europe's weaknesses goes beyond individual corruption cases. They also distort the economy, he said. In Estonia, Danske Bank and two Swedish banks withdrew from the country, where they previously had a market share of 45 per cent. Russian banks are now filling the gap, but they do not have the same compliance culture. In addition, the banks themselves were hit by the crisis, with Swedbank's stock price falling by more than 20 per cent.
"The European Union has anti-money laundering agreements to counter the financing of terrorism, but these are not effective. The scandals keep happening," he said.
What, then, can be done? Dr Vogt believes countries within and outside the EU must share more information and learn from each other. Italy is a good example, particularly its use of deportation. Australia, Colombia and Singapore all have good records in fighting money laundering.
Experimentation is also important to test new methods or ideas. In Germany, the regulator has seconded people directly onto the trading floor of Deutsche Bank to advise on decisions related to risk assessment and observe how well the bank deals with that. This is preferable to a blanket requirement for risk assessment, in which banks check every transaction to avoid legal liability and the system becomes swamped.
Regulators should also look at non-financial intermediaries, such as tax auditors, accountants, real estate agents, casino operators, jewellers and art dealers, who have become targets for money laundering. Dr Vogt has started researching this area, too. "Research should not only deal with theoretical issues but also the complexities and challenges that exist right now," he said.
The European Union has anti-money laundering agreements to counter the financing of terrorism, but these are not effective. The scandals keep happening.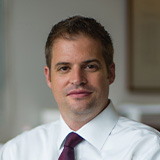 Dr Vogt's portrait by Santiago Engelhardt