November 2021 | Volume 23 No. 1
Digital Transformation
The new Chief Information Officer and University Librarian, Ms Flora Ng, is spearheading a new wave of rapid digitalisation in the University's Libraries and Information Technology Services (ITS).
HKU has undergone enormous changes to its physical campus and teaching and research programmes over the past decade – changes that are still unfolding. Less visible but just as profound have been the changes to its Libraries.
Far from being simply places of books and tables, HKU Libraries have been transformed into dynamic settings, with a wide variety of seating options, rooms for individual and group study and students with special needs, new technologies such as virtual reality and 3D printing, and a huge expansion in e-resources, such as the increase in e-books from about one million in 2006 to more than 7.8 million as of 2020–2021.
Stepping into the driver's seat to propel even further change – not only in the Libraries but IT services across the whole University – is Ms Flora Ng, HKU's new Chief Information Officer (CIO) and University Librarian who has more than 30 years' experience leading digital transformation in companies such as Johnson & Johnson in the US and Singapore, General Motors USA, and Dairy Farm in Hong Kong.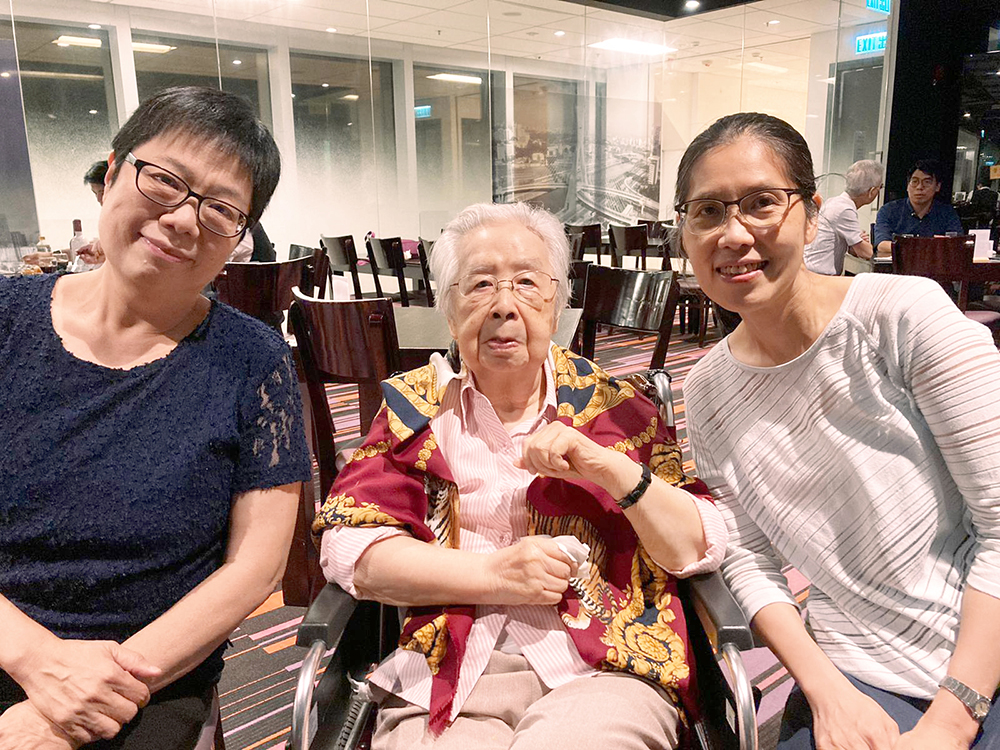 Ms Flora Ng (left) with HKU's first female librarian Dr Kan Lai Bing (centre) who served from 1983 to 1997, and Dr Esther Woo (right), Director of Library Services and Fung Ping Shan Librarian.
"Both Libraries and ITS have common themes. They both serve the whole University and they both need to simplify and improve their services. Through my position, I'm able to fast-track collaboration and interaction. The speed of change will be a lot faster on both sides," she said.
The modernisation drive that has been underway will be accelerated, including the expansion of digital scholarship services and lending services and the digitisation of the collection, especially Special Collections which include unique and rare materials. The idea is to upload these and make them accessible for teaching and research, while preserving the integrity of the physical books.
Digitalisation of researcher profiles is also on the roadmap. The HKU Scholars Hub provides information on each scholar, such as educational background and publications, that is accessible to the public, but Ms Ng talks of plans to create a new platform that also dovetails with the University's aims. Currently, certain information on scholars such as research grant details is held on a separate platform run by ITS.
"We are working with senior management to create a researcher profile platform that's dynamic and real-time, and that will help us better identify top talent at HKU," she said.
The University Libraries are also working with other non-academic units to establish the GLAM Lab – for galleries, libraries, archives and museums – that will make these resources more fit for purpose in terms of teaching and research.
Dr Esther Woo, the Director of Library Services and Fung Ping Shan Librarian, has played a major role in implementing some of these changes to date, including physical renovations. "We have changed our role quite a bit in recent years, supporting more e-learning and collaborative activities. So the renovation of our facilities has helped us deliver all these new services more effectively," she said.
As with digital capabilities, more changes are planned to physical spaces, including a revamp of the first floor to unify the Special Collections and University Archives and ensure they have the correct humidity, insect control and other physical conditions to preserve rare books and collections.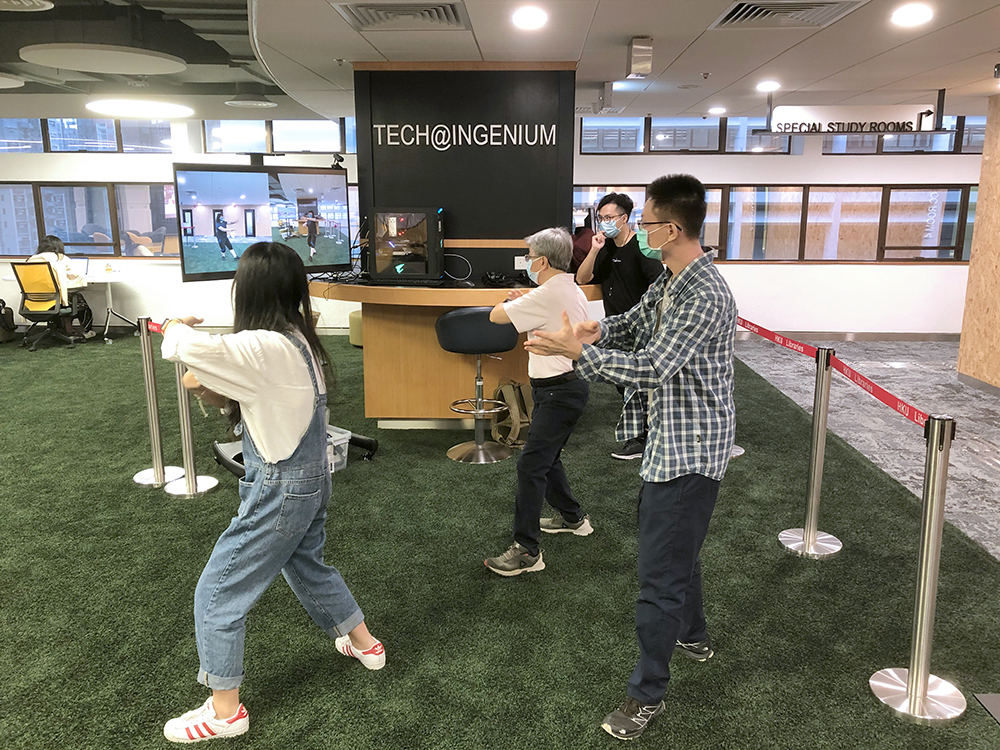 The Common Core, Faculty of Education, Sau Po Centre on Ageing and the Libraries coordinated a tai chi project at the Tech@Ingenium in the Main Library with the assistance of video and virtual reality (VR) motion capture.
"We are on two extreme ends," Ms Ng said. "We treasure all the rare books and collections that we have and we must preserve them for future generations. On the other hand, we are really pushing the virtual agenda and digital side. In the middle, there is also a large set of physical spaces that we have and that we must deal with effectively."
Looking further down the road, Ms Ng will also be involved in helping develop digital services for HKU's new campus in Shenzhen, which is still in the early stages of planning. "It's a greenfield opportunity to build a next-generation campus from a technology perspective," she said.
In the meantime, there are two major celebrations to organise for next year when the Main Library marks its 110th anniversary and the Fung Ping Shan Library, which houses the University's East Asian collection, its 90th anniversary.
The Library Public Relations and Development Manager, Mr Gary Chin, pointed out that many students have fond memories of their time in the libraries – and sometimes something more. "We have actually had a request to take wedding photos in the library because the couple met here," he said. "It leaves a lasting impression."
Ms Ng invites students, staff and alumni to send in their favourite memories of the libraries for the anniversary publications, adding: "HKU is a great place and I encourage all of our stakeholders to support us in helping us maintain this legacy."
Through my position, I'm able to fast-track collaboration and interaction. The speed of change will be a lot faster on both sides.