May 2023 | Volume 24 No. 2
AbundANTS
A first-of-its-kind census into the distribution of abundance and biomass of ants on Earth has yielded surprising results and underlined the massive role these tiny insects play in the earth's well-being.
On a daily basis, we tend not to pay these tiny creatures much heed but ants play a vital role across ecosystems and regions, and the Insect Biodiversity and Biogeography Laboratory (IBBL) within the School of Biological Sciences recently initiated a global census to find out just how abundant they are. The answer? At least 20 quadrillion ants inhabit the planet and, in terms of biomass, all the ants on Earth weigh more than all the wild birds and mammals combined, or about 20 per cent of human biomass.
"The number has massive implications because of the significance of ants as crucial players in our environment, with multiple important functions and countless interactions with all kinds of organisms worldwide," said the study's senior author Dr Benoit Guénard, head of the IBBL.
Despite many estimates over the centuries, nobody has carried out this kind of census before. Asked the reason, Dr Guénard replied: "It was about the effort required to identify and compile decades of research into a single coherent database that would allow both ecological and global analyses."
In 2012, Dr Guénard began a database on ant abundance. "A substantial amount of data existed, scattered in scientific literature as many researchers already had this information. However, these kinds of data were treated mainly as a collateral product of the study being conducted. Here, we wanted these data to be the key focus and obtain something valuable about the global patterns of ant abundance."
The question of how to go about it remained. "I had a eureka moment about partitioning the world into different types of biomes (for example tropical rainforest/desert) to ultimately gain a global understanding of ant abundance and biomass. But could we get enough data to be able to compare biomes? To do so, the different laboratory members were responsible for searching literature within specific continents, based on the language that they could read besides English (e.g. Chinese, French, German, Japanese, Spanish), which was possible thanks to the international nature of the team."
Over two years, they compiled data from nearly 500 different studies, enabling them to quantify the density of ants in various areas of the globe, and to estimate the total number of ants on Earth.
"We compared the different biomes," said Dr Guénard, "and expected rainforests to harbour particularly high abundance and biomass as we already know their importance for species richness – but the high numbers of ants encountered in savannahs and some other more arid areas were a surprise."
They also compared different habitat types and found that areas modified by humans, such as urban areas, have significantly lower abundance. "People don't necessarily want ants around, but this means the environment degrades – as they are not fulfilling their usual roles in decomposition, pest control or soil enrichment – and ultimately we'll have to pay to get the services that ants do for free. It's crucial to recognise not only how many services ants provide but also the importance of their continued abundance to do so efficiently."
Sustaining other species
"Ants bring massive value," said Dr Guénard. "First, they are food for other organisms shaping the ecology and evolution of bird, herp or even some mammal species – therefore the more ants you have, the more other species can be sustained. Second, ants are major ecosystem engineers, modifying the soil structure and quality, acting as gardeners maintaining plant diversity and health. These processes are essential for plant growth and survival, supporting entire communities of animals and bacteria, and ultimately fostering healthy ecosystems. As they bring food underground, they further enrich soils – and the more ants, the more action, the more enrichment.
"Third, decomposition – they play a vital role in ridding us of decomposing dead animals, burying them underground and thus limiting pathogenic spread. Fourth, predation [the preying of one animal on another] which results in control of herbivores, and that in turn increases plant productivity as they keep more leaves to do photosynthesis."
Dr Guénard hopes that the study findings will prompt further research, particularly into potential consequences should the ant population fall. "There are still many gaps in our knowledge – particularly geographical ones since there are parts of the world for which no data are available. Similarly, we still have very limited information on the abundance of ants underground or for those living in the tree canopy. Therefore, it is likely that 20 quadrillion ants is a conservative estimate. We hope that other people, including schools, could start working on this, as counting ants is something that most can do."
The findings have been published in the Proceedings of the National Academy of Sciences of the USA (PNAS), and relayed by media all over the world. "This helped us get our message across. As humans, we see things at a certain scale which differs from the vast majority of life, including groups like insects that are so important – not by their size but through what they do because of their abundance. Insect populations are in decline in many parts of the world and with it all the functions they fulfil. If those can't be fulfilled then this may lead to consequential changes in ecosystems and for our own lifestyles."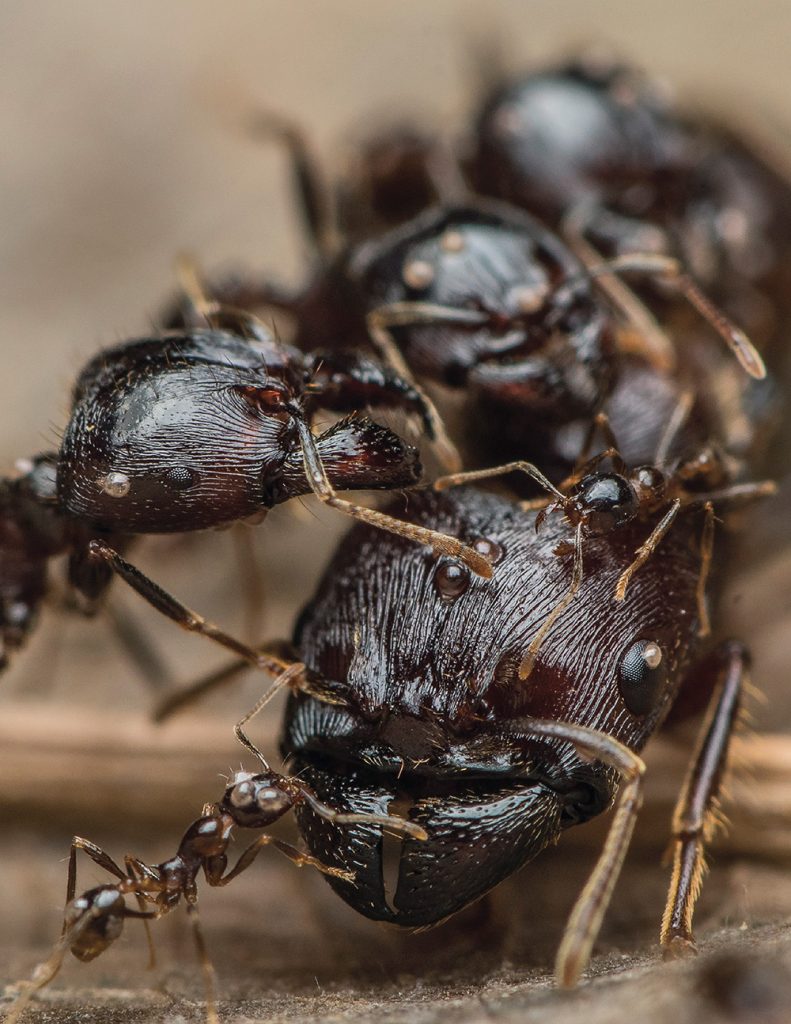 Carebara is a genus of myrmicine ants mainly within the tropical regions of Africa and Asia. (Courtesy of François Brassard)
The number has massive implications because of the significance of ants as crucial players in our environment, with multiple important functions and countless interactions with all kinds of organisms worldwide.