November 2021 | Volume 23 No. 1
Paintings from Myanmar's Lost Transition
Myanmar's move towards greater openness crashed to a halt early this year with a military-led coup. But some of the fruits of that decade-long flowering are preserved in a large collection of paintings from the period held by HKU's Vice-President and Pro-Vice-Chancellor (Teaching and Learning), Professor Ian Holliday, and showcased in a new book.
Myanmar's tumultuous history has not only been a major research focus for Professor Ian Holliday, it has impacted him personally. When the country began to open up just over a decade ago, he was Dean of Social Sciences at HKU. Given the significance of the changes at that time, he decided to step down from that post and focus on studying the country's transition.
He made multiple visits to Myanmar, meeting with leaders such as Aung San Suu Kyi (including hosting a 2011 video dialogue with her and HKU members) and connecting with various leaders of civil society in places such as Pansodan Gallery in Yangon, a combination of teahouse and art gallery. Artists naturally hung out there and as he chatted with them about their work, he started to buy a few pieces.
Before he knew it, he was building a solid collection of art from Myanmar's transition period – and more. "As I started to buy more pieces, I realised they could make the transitional period accessible to the wider world, where the Burmese language can be a barrier," he said. "People can easily engage with these paintings that have been produced by Myanmar artists."
Professor Holliday now has hundreds of paintings and has staged about 25 exhibitions in Hong Kong, Singapore, Australia and the US, including some still on display in HKU's Main Library. To expand the audience, he recently produced a book, Painting Myanmar's Transition, with research postgraduate student, Aung Kaung Myat, who is from Myanmar.
Eighty artists were each asked to select one painting from Professor Holliday's collection and answer three questions – why they chose this painting, whether life had changed for them as a painter over the previous decade, and whether they felt Myanmar had changed.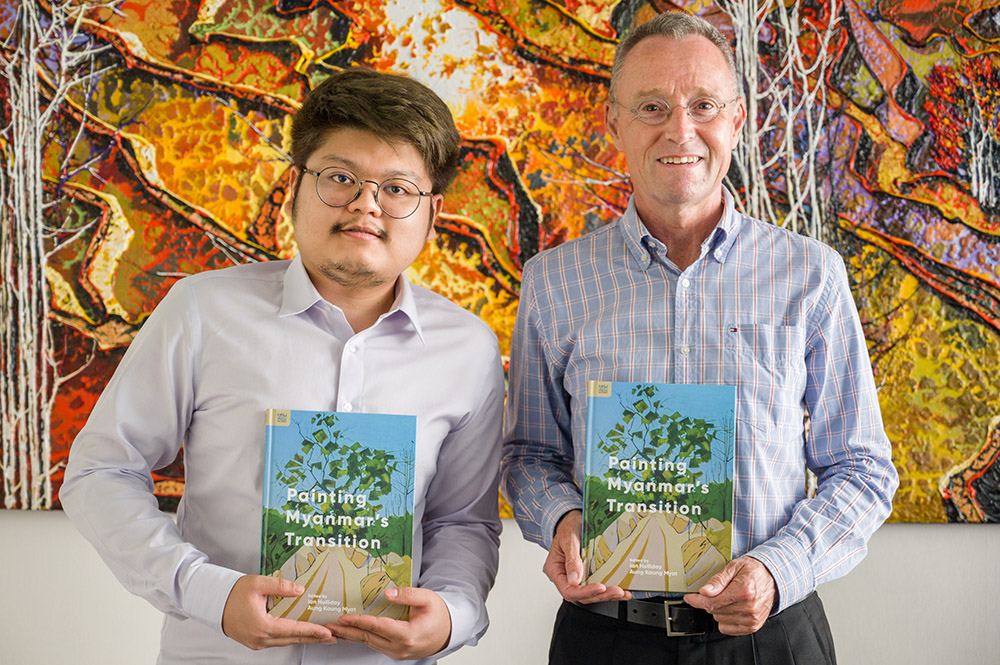 Professor Ian Holliday (right) and Aung Kaung Myat (left).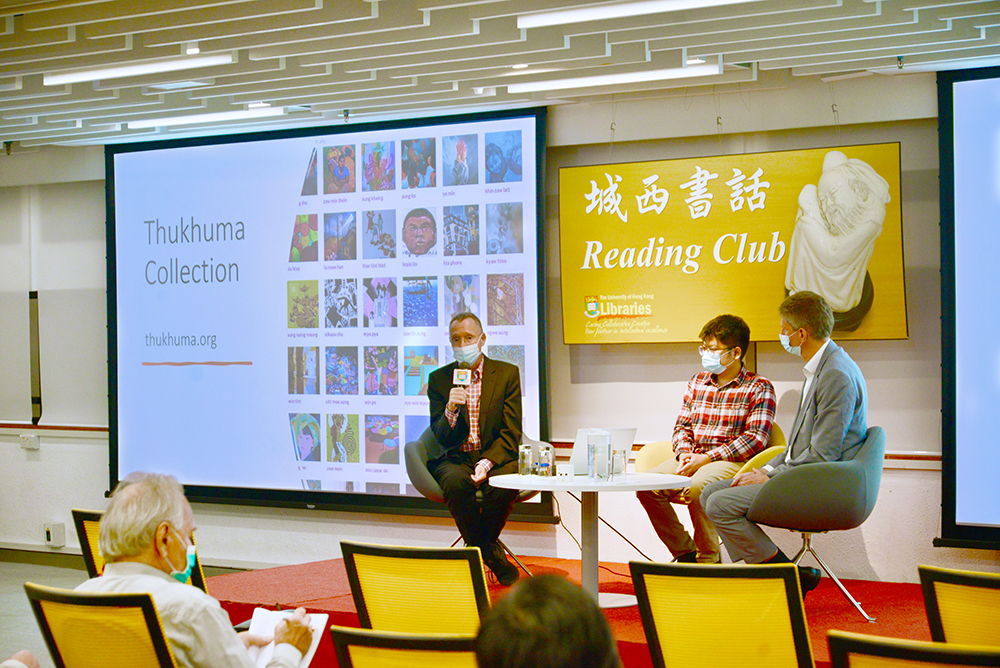 Professor Ian Holliday (left) and Aung Kaung Myat (centre) at the Painting Myanmar's Transition Book Talk held at HKU's Main Library.
The interactions with the artists date from 2020, before the coup, which gives them great poignancy. The book provides context in the introduction and analysis in the conclusion.
"This book is like a time capsule because there is such a big difference between what is going on right now and what went on in the recent past," Aung Kaung Myat said. "Most of the artists reflected on the transition period as very positive and looked forward to the future. A few religious and ethnic minority artists were more critical, but overall, even they accept it was positive change."
The artists also mentioned improvements to their lives over the previous decade, the greater ease in staging exhibitions and selling paintings, the growth in interest in Myanmar art, and the rise of the domestic collector. A number of them mentioned the importance of education to the country's future.
The artists themselves were aged from their 30s to the 70s, included professionals and amateurs and represented a wide range of artistic styles. Some were disinterested in politics and stuck to traditional Burmese painting themes of Buddhism and landscapes, while others responded to the transition by producing art with political themes. Some artists have been contacted since the coup, but Professor Holliday said it is impossible to say whether all of them are safe.
"If you think about Pansodan Gallery, where I met artists and we talked about their art, and also political figures to talk about politics, that whole world has been swept away," he said. "We thought this book would be about an ongoing process that would continue into the 2020s. Instead, we captured something which is basically over."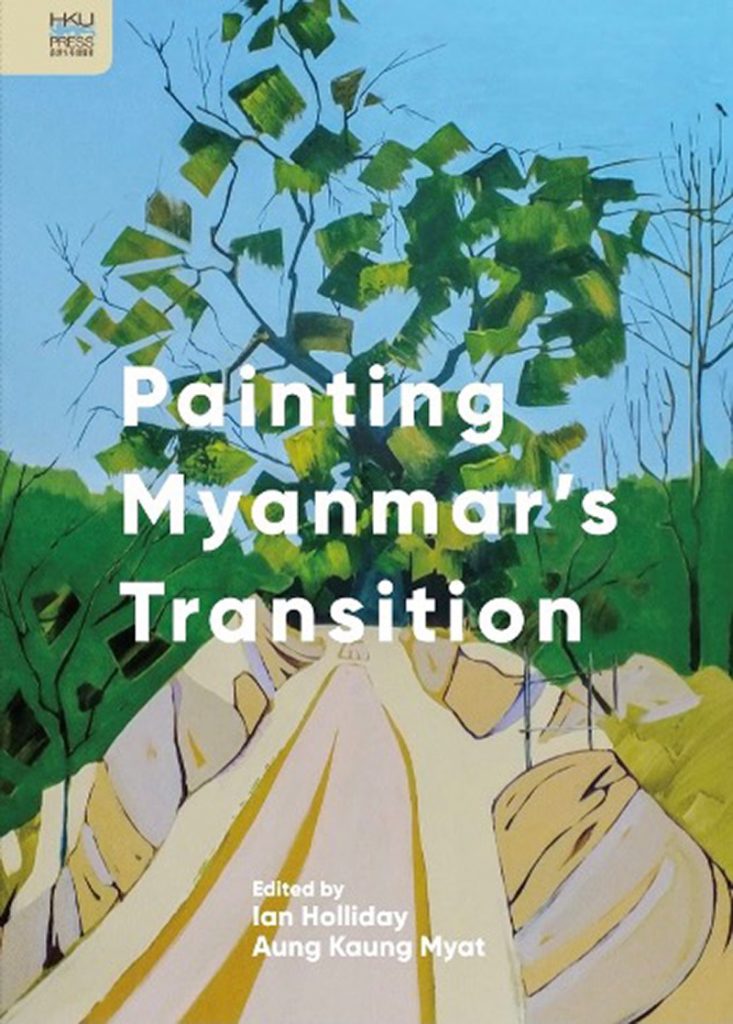 Painting Myanmar's Transition
Editors: Ian Holliday and Aung Kaung Myat
Publisher: Hong Kong University Press
Year of Publication: 2021
We thought this book would be about an ongoing process that would continue into the 2020s. Instead, we captured something which is basically over.