May 2022 | Volume 23 No. 2
Early Detection to Beat Liver Disease
The introduction of a screening programme for people at high risk of contracting hepatitis C aims to reduce transmission by discovering cases early and treating them.
Drug addicts in rehab were the biggest target for the programme, one of the highest risk groups for the hepatitis C virus (HCV) which is usually transmitted through contact with blood, bodily fluids or sexual intercourse and from mothers to babies during pregnancy.
"Chronic infection with HCV can lead to liver cirrhosis, liver cancer or death," said Dr Loey Mak Lung-yi, Clinical Assistant Professor at the Department of Medicine. "But at the early stages, infection is mostly asymptomatic implying that infected persons are usually unaware of the condition.
"Yet, HCV infection can be easily cured with the availability of highly active direct acting antivirals (DAA), usually administered orally for 2–3 months with minimal side effects. Therefore, the potentially serious complications from HCV can be effectively prevented. Finding the infected people and directing them to treatment is one of our main goals for HCV elimination."
The overall scheme is taking a micro-elimination approach to the virus, which involves definition and segmentation of population groups by demographics, such as age, subpopulations, environmental factors, geographical areas and premises, for which tailor-made measures are designed and implemented to gradually eliminate diseases.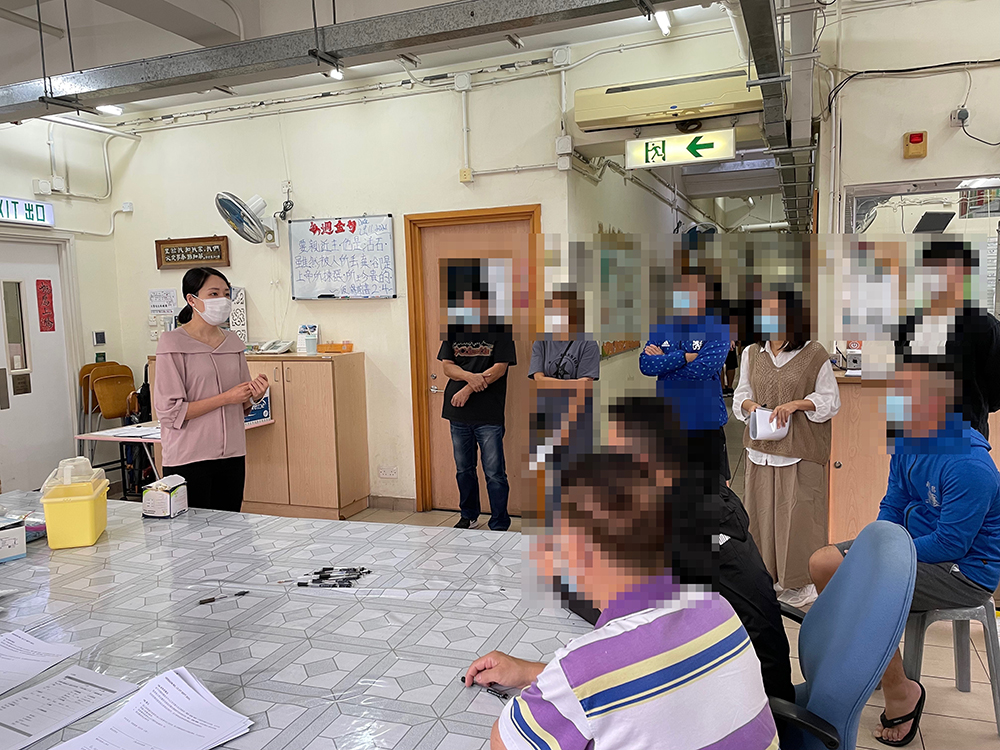 Dr Mak explaining the facts of hepatitis C infection and the project details to the staff and study participants in a halfway house in Kwai Chung.
Rehabilitated drug addicts
Rapid tests were carried out on rehabilitated drug addicts and 117 out of 140 people – or 80 per cent – proved positive for HCV, which is slightly higher than the original expected prevalence in Hong Kong. However, Dr Mak explained that HCV prevalence in Hong Kong is not high (0.3 per cent) for the general population, and this is one of the reasons it is not cost-effective to conduct population-based screening of HCV.
"Since it is a blood-borne virus, it is much more commonly found among high-risk groups – for example people who inject drugs (PWIDs), people infected with human immunodeficiency virus, men who have sex with men, people who were transfused with contaminated blood products or transplanted with infected organs, and people with chronic renal failure on haemodialysis that are exposed to contaminated bodily fluids." Therefore, targeted screening of high-risk groups is a more pragmatic approach than population-based screening.
"Screening is simply performed by testing a small amount of blood for viral materials, be it viral nucleic acid or viral protein. With the advancement in medical technology, point-of-care tests can be used for screening on-site, allowing rapid determination of HCV status, thereby reducing drop-out rate from repeated clinic visits or blood tests. Once an individual is confirmed to be HCV-infected, the rest is straightforward clinical management that conforms to standard practices."
The programme was also able to reduce patient wait time by establishing a Linkage-To-Care clinic to manage the HCV-infected PWIDs identified from this project. "The clinic is not part of routine clinical service, but rather, a research clinic that is mainly supported by the research team at HKU Medicine (Hepatology)," said Dr Mak. "Therefore, the wait time is significantly shorter than clinics run under the Hospital Authority services."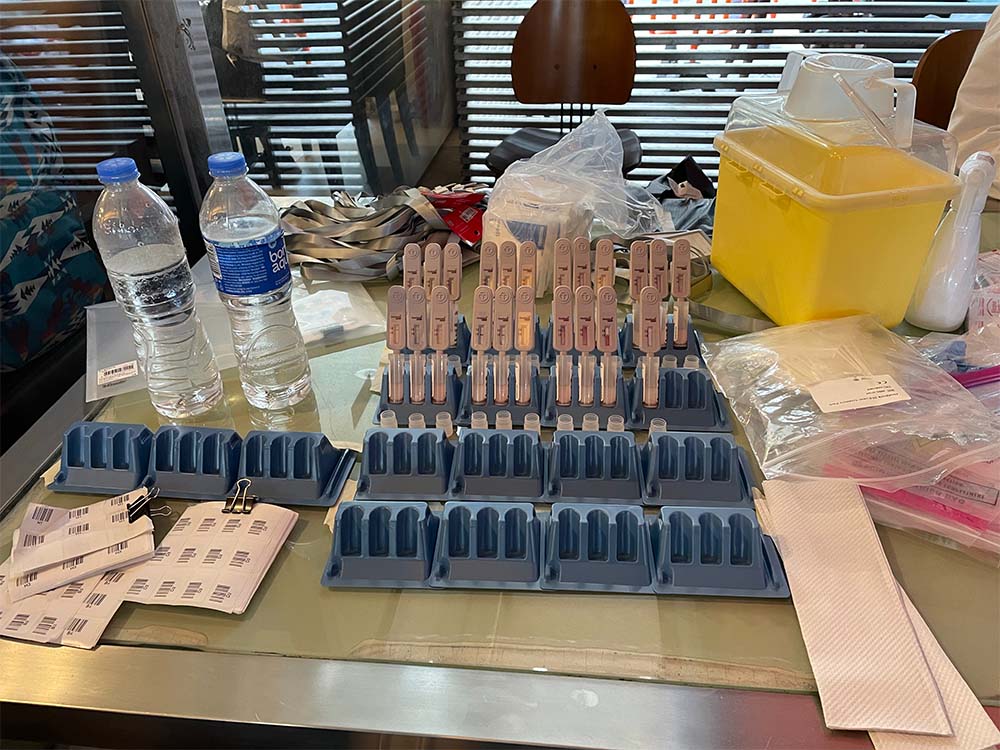 Point-of-care test kits were put on a rack. It took about 20 minutes for the result to be ready after a drop of blood was collected from the participants.
Eligibility enhanced
Other recent developments in patient eligibility for treatment have also helped make such a programme feasible. "Prior to October 2020, only patients with cirrhosis or prior organ transplant could receive fully-subsidised DAA under the Hospital Authority's policies," said Dr Mak. "In other words, if an HCV-infected individual had minimal liver disease, he/she would have to purchase the DAA at his/her own cost – an amount that was not affordable by most patients.
"Fortunately, since October 2020, the Hospital Authority has broadened the indications of fully-subsidised DAA for all HCV-infected individuals. Subjects previously not eligible were subsequently prescribed with DAA following the policy amendment. According to international clinical guidelines, every HCV-infected individual should be treated with DAA, unless the person has limited life expectancy from other non-liver related conditions. Therefore, we were able to treat all HCV-infected PWIDs who attended the clinic with fully-subsidised DAA."
Currently, the team is following up HCV-infected PWIDs identified from the programme for DAA and treatment response. "Plans to continue the programme for other high-risk groups are being contemplated but uncertainties abound due to the current COVID-19 situation," said Dr Mak.
"But, quite simply, the major obstacles to conquering HCV lie in identification of infected individuals and engagement in the healthcare system. Our vision is that all HCV-infected people can be treated as soon as possible, which needs joint effort from multiple stakeholders to facilitate HCV elimination."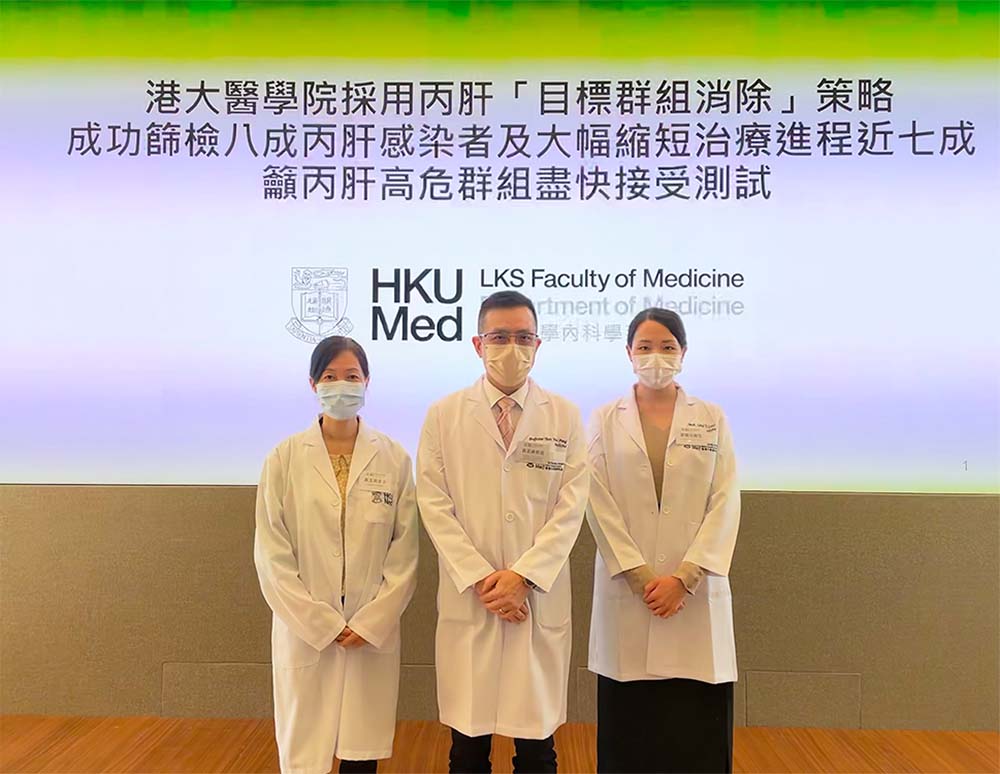 The research team – (from left) Miss Delanda Wong (research nurse), Professor Yuen Man-fung and Dr Loey Mak Lung-yi.
The major obstacles to conquering hepatitis C virus (HCV) lie in identification of infected individuals and engagement in the healthcare system. Our vision is that all HCV-infected people can be treated as soon as possible, which needs joint effort from multiple stakeholders to facilitate HCV elimination.