November 2022 | Volume 24 No. 1
Our New Head of HKU-Shenzhen Hospital
When Professor Lo Chung-mau stepped down as Chief Executive of the HKU-Shenzhen (HKUSZ) Hospital on July 1 to become Hong Kong's new Secretary of Health, the University did not need to look far for a worthy replacement: Professor Kenneth Cheung Man-chee, former Head of Orthopaedics, has been involved in the hospital from its early days.
Professor Kenneth Cheung Man-chee, Chair Professor of Orthopaedics and Traumatology and Jessie Ho Professor in Spine Surgery, and now Chief Executive of the HKUSZ Hospital, has made a career of traversing East and West and seizing opportunities with the energy and drive that befit someone who has been a long-distance runner for many years.
He was schooled in the United Kingdom from age 11 and trained there before joining HKU in 1992, where he completed an MD and become a world-respected spinal surgeon. He became the first non-North American president of the Scoliosis Research Society and founding chair of AO Spine's Research Commission, devised new treatments including the first magnetically controlled growing rod to correct spinal deformities, and undertook major funded projects on the genetics of disc degeneration with the School of Biomedical Sciences.
He also headed the Department of Orthopaedics and Traumatology from 2012 to 2021 where he raised its public profile and fundraising prowess and established the spine surgery speciality at the HKUSZ Hospital after it opened in 2012.
While others might be happy after all that to take it easy, Professor Cheung is now seizing a major new challenge heading HKUSZ Hospital.
"I was motivated by two thoughts. One was that I feel an attachment towards the hospital because I have been there from the beginning. Seeing how the hospital has built up over the years is like watching a baby grow up. You don't abandon your child.
"The other thought was that HKUSZ Hospital is a reform hospital and there are a lot of opportunities to really trailblaze and innovate, and lead healthcare reforms in China."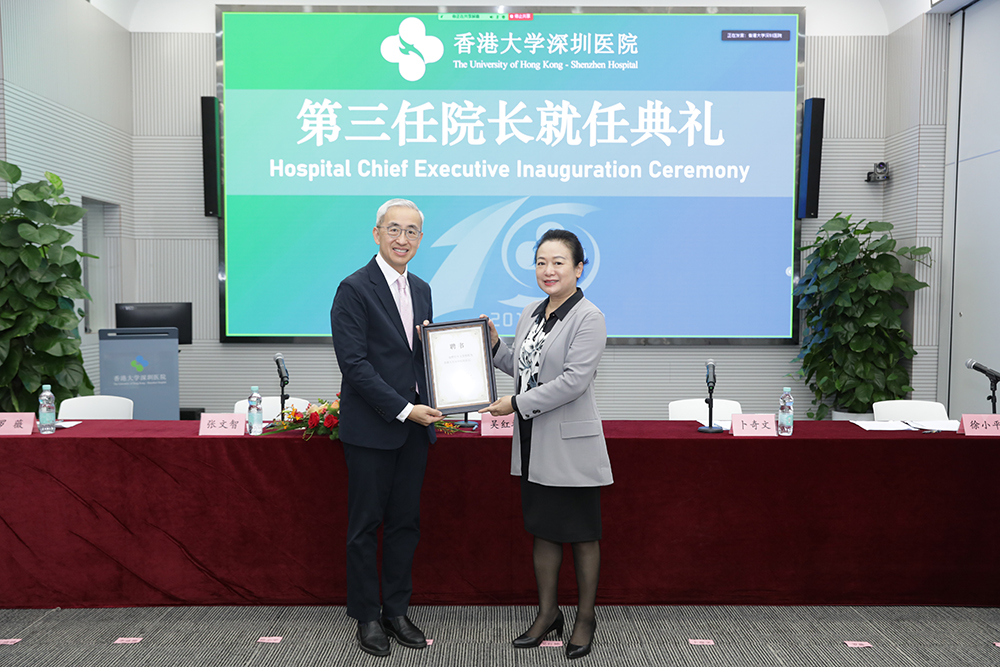 Professor Kenneth Cheung Man-chee (left) at the HKUSZ Hospital Chief Executive Inauguration Ceremony.
Recognition from the top
Since taking up his position on July 1, he has been overseeing expansion plans and working towards targets that reflect the central government's faith in the hospital.
HKUSZ Hospital is the only hospital operated solely by HKU. Under Professor Lo and his predecessor, Professor Grace Tang Wai-king, it was accredited by the Australian Council on Healthcare Standards in 2014, collaborated with Hong Kong's Hospital Authority from 2015 to provide medical care for Hong Kong citizens in China (the only such hospital to do so), and was awarded Triple A accreditation in China, the highest standard awarded in the country in 2017.
Last year, the central government named it one of 14 high-quality experimental hospitals nation-wide to lead the country in developing innovative new treatments, providing 'green' healthcare that makes appropriate use of resources, and treating the most serious illnesses.
"The other 13 hospitals are all brand names in China with histories of 100 years or more. We are by far the youngest of these hospitals, which I think is recognition of what we have done as a hospital and of HKU's brand within the Mainland," Professor Cheung said.
These achievements are also starting to be seen as a model of Hong Kong-Shenzhen cooperation at a time of greater integration across the Greater Bay Area (GBA). "Our hospital has had regular visits from other government officials and organisations to try to understand how the two places can work together," he said.
The HKU-Shenzhen Hospital is in the midst of an expansion with a research block and new 1,000-bed clinical block under construction.
Expansion underway
Professor Cheung's own vision for the hospital includes keeping the focus on patient-centred care, recruiting talent within and outside China, and continuing to promote the highest possible standards of care.
"I have had a lot of experience in international and interdisciplinary collaboration across all corners of the world and I want people within HKUSZ Hospital to have an open mind and look internationally for the best practices we can adopt," he said.
"I also want them to embrace innovation not only in treatment but research. Shenzhen has a strong industrial backbone, while HKU has lots of ideas without an industry base. I hope both doctors and researchers will think about how HKUSZ Hospital can facilitate biomedical and translational research."
The hospital is in the midst of an expansion. A research block and new 1,000-bed clinical block are under construction and will be completed by 2025 and other spaces have been offered for research and clinical services. The central government also hopes Professor Cheung can help promote international recognition of the Triple A standard.
"It's exciting to be here because all these different things are coming together. I think if Hong Kong is to succeed, we have to be part of the GBA. One of my missions is to convey the excitement of working here to my colleagues and particularly the younger generation. There are many possibilities for future growth," he said.
One of my missions is to convey the excitement of working here to my colleagues and particularly the younger generation. There are many possibilities for future growth.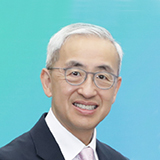 PROFESSOR KENNETH CHEUNG MAN-CHEE