May 2021 | Volume 22 No. 2
Cutting-Edge Course for Future Surgeons
A free online learning course challengingly entitled asks 'So You Want to Be a Surgeon?' is attracting big interest in Hong Kong and abroad.
"Surgery is a challenging subject that requires not only skills and craftsmanship but also knowledge and timely judgment and decision," said Course Director Dr Ian Wong Yu-Hong, who is also Clinical Assistant Professor sub-specialising in esophageal and upper gastrointestinal surgery in HKUMed. "Sometimes that gives students the impression that both the training and the working hours are long and they may choose against pursuing surgery because they want to embark on their career earlier or in a pursuit that is less hard work. Through this MOOC [massive open online course], we wanted to show them not only what the work involves but also what it really means to pursue this profession."
In short, it is designed for those who want to become a surgeon but are not sure where to start, what it takes, and how to get there. The target audience is primarily senior high school students and university students who are considering exploring a career in surgery.
The course, which is Asia's first multidisciplinary surgery MOOC, came about when the Centre for Education and Training (CET), Department of Surgery, was revamping its teaching videos with the help of the Technology-Enriched Learning Initiative (TELI) and decided to expand the platform into a MOOC and introduce this specialty.
Multiple instructors
More than 34 instructors feature on-screen in the MOOC, providing their time and expertise and sharing their experience of more than 15 subspecialties in surgery, ranging from simple haemorrhoids and gallstone diseases to lifesaving cancer operations, transplantation and open-heart surgery. In addition, seven world-renowned overseas surgical experts share their experiences of working in the profession.
"Of course, all the TV dramas have portrayed the excitement of being a surgeon!" said Dr Wong. "And these world experts and our local instructors underline the truth behind the fiction – they unanimously agree that the job satisfaction and excitement surpass any difficulty they may have encountered during their training. Despite the advances in pharmacological development, surgery remains the irreplaceable mainstay of treatment in surgical oncology, structural defects, trauma, transplantation, emergencies, and many more. In the MOOC, we reveal the real-world spectrum of diseases that we are facing every day."
Around 3,500 people worldwide enrolled for the first six-week, instructor-based course, and the number is still growing as the self-paced modules continue. To date, there are more than 4,500 participants from 125 countries or regions – more than 1,600 are from Hong Kong; followed by Mainland China and the US. Some 65 per cent of the participants are aged 25 years or under.
Asked how COVID-19 has impacted interest in joining the medical professions of any type, Dr Wong said: "We are seeing a lot of respect and appreciation for healthcare professionals locally and internationally during this time of the pandemic. It is indisputable that society needs better holistic care and a shorter waiting time. Although as surgeons our specialty is not at the frontline against COVID-19, everyone in the medical field is affected.
"We had to postpone patients' endoscopy and surgery, and we were squeezed out of surgical wards as they were urgently needed to be transformed into 'step-down' wards for accommodating COVID-19 patients. Now, after several waves of COVID attack, we need to catch up with the patients in the queue. However, surgery, as a specialty with unique expertise, cannot be trained in one day. This is another reason we have introduced the MOOC to encourage students and trainees to start early by exploring their interests."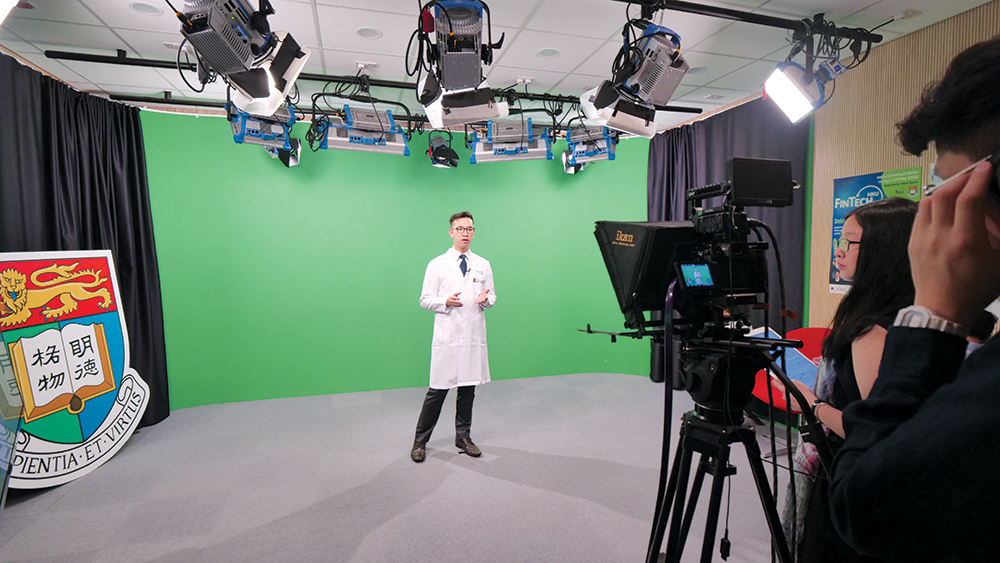 Dr Ian Wong at the Teaching Innovation Production Studio filming for the surgery MOOC.
Hands, heads and technology
Going back to the fundamentals, Dr Wong described the meaning of the discipline – in the beginning and today. "The word surgery comes from the Latin 'chirurgia' or the Greek 'cheiro' (hand) and 'ergon' (work) – basically, surgeons use their hands to heal patients. But we also show participants that nowadays, not only do we use our hands – and our heads – to heal patients, but we also have the latest technology like augmented/virtual reality, 3D printing, image enhanced surgery, genetic counselling and therapy, robotic surgery, and minimally invasive surgery, etc. incorporated in our daily practice. We have dedicated a session too to describing how female surgeons are thriving in this field, it is no longer male-dominated."
In addition to TELI's contribution, filming and producing the videos, the cross-disciplinary project involved research, administrative and IT staff from the Centre for Education and Training, as well as the Department of Surgery who bridged the communication gap between different parties and oversaw the production of the whole course. PR and social media teams from the Li Ka Shing Faculty of Medicine helped publicise it to 125 regions and countries, and 25 medical student volunteers were involved in discussing the MOOC's content as well as proofreading, subtitling and maintaining the social media content.
The team are planning to push forward a second round of the course later this year, and looking further ahead, Dr Wong said: "We are hoping to extend the MOOC to more countries and regions outside Hong Kong, particularly places where information on surgical education is limited. We have also realised that the content may be useful for other healthcare-related professionals and are reaching out to other medical areas such as nursing, pharmacy, traditional Chinese medicine, physiotherapy and nutrition. We are also planning to modify the content within the course and translate the voice-overs into Cantonese so it can work as a tool to improve patient education within our locality too."
Despite the advances in pharmacological development, surgery remains the irreplaceable mainstay of treatment in surgical oncology, structural defects, trauma, transplantation, emergencies, and many more. In the MOOC, we reveal the real-world spectrum of diseases that we are facing every day.