November 2019 | Volume 21 No. 1
Softening the Blow
A Hong Kong University start-up called Lifespans, which offers innovative treatment for fracture repair in elderly patients, is winning prizes and a lot of industry interest.
"We wanted to become the most respected orthopaedic implant company worldwide for the elderly, by offering the safest, most effective and most innovative treatment options for fracture repair in patients with soft, fragile bone tissue," said co-founder Dr Sloan Kulper, explaining the thinking behind the launch of Lifespans.
A key member of the research team from the Department of Orthopaedics and Traumatology which developed the bone implant technology, Dr Kulper added that typical implants widely used now, such as bone screws and nails, are too rigid. "They tend to break through elderly bone after surgery, resulting in failure rates as high as 25 per cent," he said. "This requires patients to return to hospital for additional surgeries which are costly, high-risk and painful."
The team's approach to solving this has been to develop new implant technologies that reduce damage. The critical time is the six- to nine-month healing period during which a patient puts his/her body weight on a fracture that is being held together by these implants.
"At this time, the patient is also walking, and potentially taking hundreds of thousands of steps," said Dr Kulper, "meaning the implant must firmly fix the bone fragments in place without allowing movement (migration) which can lead to misalignment during the healing process, or even cases where the implant breaks through the bone completely (called cut-out). By reducing the damage caused to bone tissue when a patient puts their body weight on an implant, failure rates caused by migration and cut-out can be reduced.
"During our research we observed that existing implant designs, which consist entirely of very stiff metallic and polymeric materials, are simply too rigid and inflexible for the relatively soft and fragile bones of elderly people. In response, we developed the world's first soft, elastic implant tip technology, which we call the Lifespan Soft Tip (LST). By augmenting typical implants with the LST, we have observed up to 25 per cent reductions in migration rates during pre-clinical testing."
This relatively low-cost technology uses a biocompatible polymeric material that acts a cushion between the rigid implant and the bone material. The technology was developed as part of Dr Kulper's thesis with Dr Christian Fang, Dr Erica Ueda Boles, Professor Frankie Leung and Professor William Lu as the primary team members.
Their second implant technology was developed in collaboration with Dr Xiaoreng Feng, an orthopaedic surgeon and PhD candidate in the Department of Orthopaedics and Traumatology. His thesis research with Lifespans co-founders included a groundbreaking study into the optimisation of orthopaedic screw thread design to match the biomechanical properties of bone.
Backed up by publications in leading journals in the discipline, including the Journal of Orthopaedic Research, these insights led to patent-pending inventions that underpin the Lifespan Soft Thread technology which continues to develop in collaboration with other members of the Lifespans engineering team.
"We also have a bone simulation software that we developed with the Faculty of Engineering's Professors KY Sze and Alfonso Ngan, and which was studied in-depth during a project led by Dr TM Wong, Dr Christian Fang, Dr Grace Zhang from the Medical Faculty and Tongji University's Dr Xiaodan Ren," said Dr Kulper. "This is a first-of-a-kind software platform for virtual testing of implants in computerised soft bone tissue. We recently published results in the top journal of our discipline."
The technology has won them numerous prizes at various scientific events, including top place at the Hello Tomorrow technology competition in Singapore, as well as the IMAGINE IF! start-up competition during its Hong Kong finals in 2019.
Dr Kulper said: "All the competitions and events we have participated in have introduced us to excellent networking partners. In particular, we have been very excited to join Johnson & Johnson's first incubation programme in Asia – JLABS @ Shanghai – where we have an opportunity to network and collaborate with an excellent community of industry veterans and fellow start-ups in the medical space."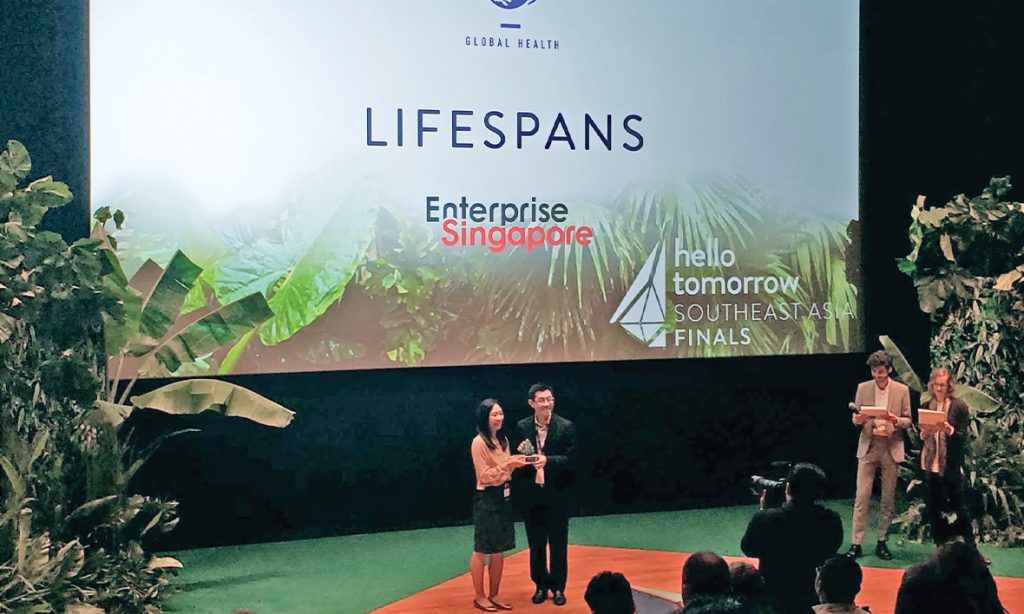 Lifespans wins top prize at the inaugural Hello Tomorrow Singapore Regional Summit.
Overseas approval
Lifespans is currently hard at work completing the regulatory approvals for their first devices – the Lifespans Soft Hip and Soft Shoulder implants – in the US, ASEAN [Association of Southeast Asian Nations], Australia and Canada. Likewise, they are beginning clinical data collection which will be used to gain market entry to the EU, China and Japan.
This is being fuelled by a combination of public and private funds, following successful Seed and Pre-A fundraising rounds in the US and Hong Kong with leadership from Chief Financial Officer Adrian Chan. In March 2020, Lifespans' Chief Marketing Officer Richard Holloway has arranged for a public debut of the company's innovative technologies at the American Academy of Orthopaedic Surgeons (AAOS).
Dr Kulper commented: "We can't wait for the opportunity to share our work with our peers and the global orthopaedics industry at AAOS in 2020, it will be a huge milestone for all of the stakeholders in our company."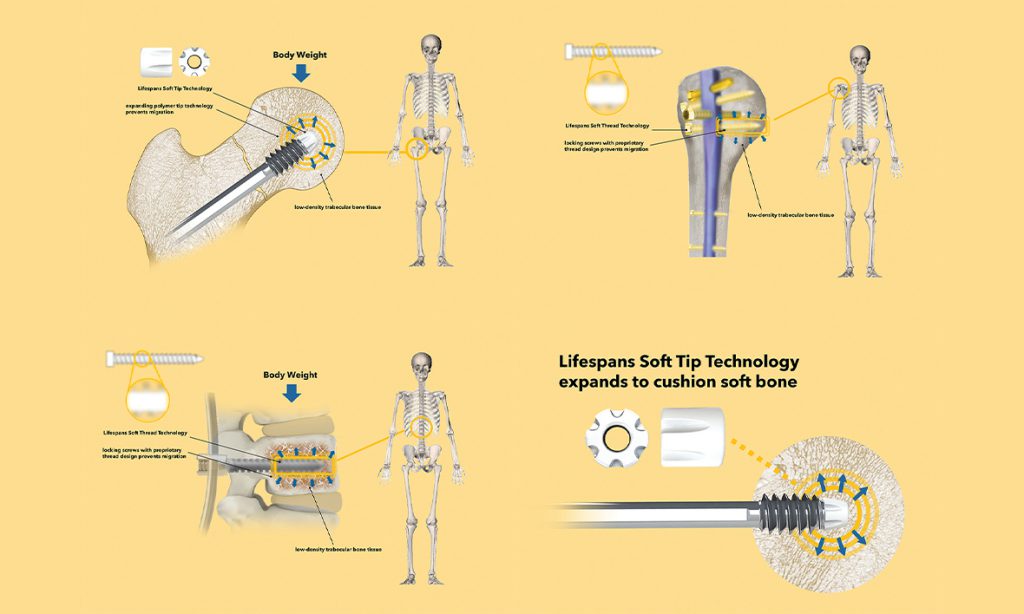 Lifespans develops three implants for repairing fractures in the elderly: Lifespans Soft Hip, Soft Shoulder, and Soft Spine.
We developed the world's first soft, elastic implant tip technology, which we call the Lifespan Soft Tip… we have observed up to 25 per cent reductions in migration rates during pre-clinical testing.