May 2020 | Volume 21 No. 2
HKU's Virus Experts Called to Action
The pandemic caused by COVID-19 (for coronavirus-2019) has upended all areas of life around the world. HKU's Medical Faculty, one of the world's foremost research centres for emerging infectious diseases, has played a central role in the effort to contain it.
HKU's LKS Faculty of Medicine (HKUMed) has been at the forefront of research into emerging infectious diseases for decades, producing groundbreaking work on H5N1 and H9N1 bird flus, H1N1 swine flu, SARS (severe acute respiratory syndrome) and MERS (Middle East respiratory syndrome). Now, with COVID-19, that expertise is being applied to the most critical task yet: helping the world understand and contain this new coronavirus that has spread rapidly around the globe.

Scholars in the Faculty were the first in the world to produce a detailed cluster report, epidemiology report, electron microscope images and mathematical model of the potential spread of the virus – all within a few weeks of COVID-19 taking hold in Wuhan city in Mainland China. Their research has continued apace ever since.

In addition, two HKUMed experts – Professor Gabriel Leung, the Dean and Helen and Francis Zimmern Professor in Population Health, and Professor Yuen Kwok-yung, Henry Fok Professor in Infectious Diseases and Co-Director of the State Key Laboratory for Emerging Infectious Diseases in the Department of Microbiology – were part of the 25-member World Health Organization (WHO)-China Joint Mission that visited the Mainland in February to study the state of the epidemic and the effectiveness of China's response. Professor Leung also co-convenes the WHO's research group on the epidemiology of COVID-19 and testified to the British parliament via video link on HKU's measures to contain the outbreak.

HKUMed experts have also been advising the Hong Kong government on its response to the disease and speaking almost daily to top local and international media outlets, such as 60 Minutes Australia, Al Jazeera, BBC, CBS News, CNN, CCTV, Der Spiegel, Financial Times, The Guardian, NBC News, The New York Times, The New Yorker, NHK, Politico, Phoenix TV and The Wall Street Journal, to provide current scientific and epidemiological information that has helped communities and individuals develop their response to COVID-19.

"Over the past two decades, HKUMed has been advancing our capabilities in response to threats from emerging infections. We have world-leading experts and excellent research facilities that we were able to deploy immediately when COVID-19 emerged. We have the capabilities to help not just Hong Kong and the region but also the whole world in coping with this threat," Professor Leung said.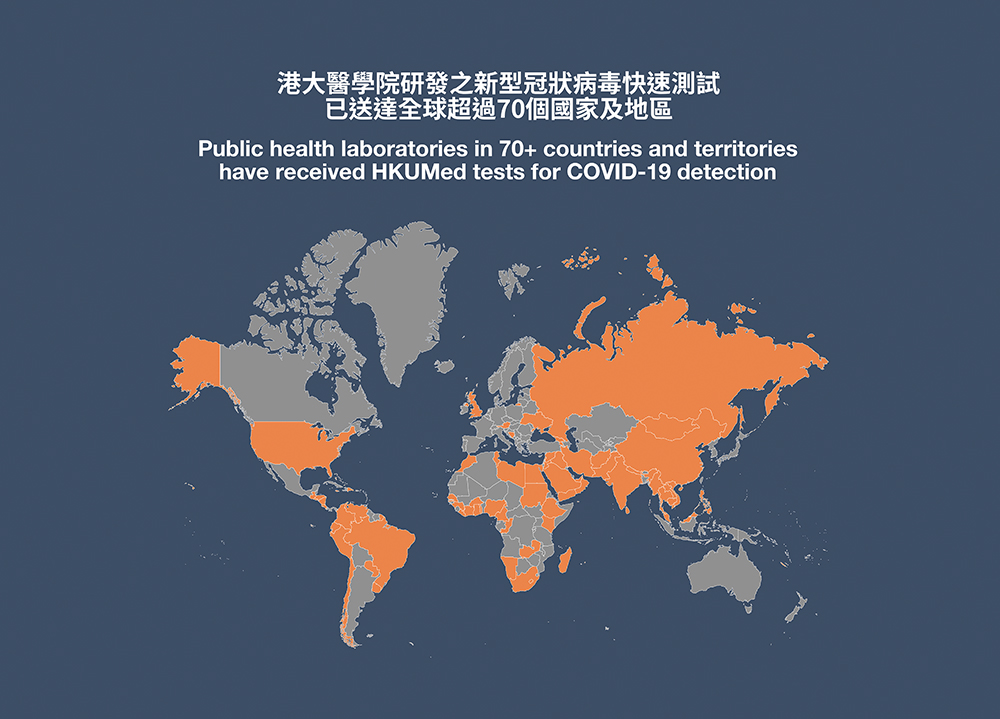 Rapid nucleic acid amplification tests that were developed by HKUMed to detect COVID-19 in patients are being used by public health laboratories in more than 70 countries and territories.
We have the capabilities to help not just Hong Kong and the region but also the whole world in coping with this threat.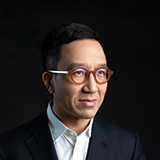 Professor Leung's portrait by Pan Shiyi Photography
Influencing policy, raising alarms

Those capabilities include physical infrastructure, such as two P3 (biosafety) laboratories, research programmes such as the State Key Laboratory for Emerging Infectious Diseases, the WHO Collaborating Centre for Infectious Disease Epidemiology and Control and a WHO H5 reference laboratory that are both based in the Faculty, and more than 55 researchers listed among the top one per cent in their fields based on the number of citations, according to Clarivate Analytics.

Virologist Professor Malik Peiris, Tam Wah-Ching Professor in Medical Science, who earlier published landmark research on SARS and MERS, was one of the first to isolate the virus outside of Mainland China and, together with Professor John Nicholls of the Department of Pathology, produced the first images of the COVID-19 virus' replication in cells (the virus is officially known as SARS-CoV-2). He also worked with Professor Leo Poon to rapidly establish assays for detection of SARS-CoV-2, a test that has been requested by and shared with more than 70 countries and territories. This team also assessed the viral load and dynamics, showing that asymptomatic patients could transmit the virus.

Clinical microbiologist Professor Yuen, who has been widely cited for his discovery of over 30 novel human and animal coronaviruses since 2003, including the first bat SARS-related coronavirus, led colleagues in providing the first proof of human-to-human transmission of SARS-CoV-2, which is also a bat SARS-related coronavirus. The finding was based on a family cluster from the HKU-Shenzhen Hospital. "This research changed policy control in Mainland China and then the world," he said. "It was because of the accumulation of virus genomic information from our years of work on emerging infectious diseases that we were able to produce a very good diagnostic test for this family cluster of COVID-19."

Public health experts, such as Professor Leung, Professor Ben Cowling and Professor Joseph Wu Tsz-kei, who all have stellar track records in infectious diseases, were the first to define the epidemiological characteristics of COVID-19 in Wuhan. Working with the Chinese Center for Disease Control and Prevention, they provided the first analysis of transmission dynamics. "We also published a paper at the end of January that was a modelling analysis of how the outbreak could spread across China and the rest of the world in the coming weeks and months. That projection has now in many ways materialised," Professor Cowling said.

The public health team also produced research on the severity of infections in terms of hospitalisations and deaths; the effectiveness of face masks based on pre-COVID-19 infections, which became the fifth highest ranked article on Altmetric, a system tracking social and news media coverage of more than 14 million research papers from around the world; and the likely risk of a second wave of infections as controls on people's movements and interactions are lifted.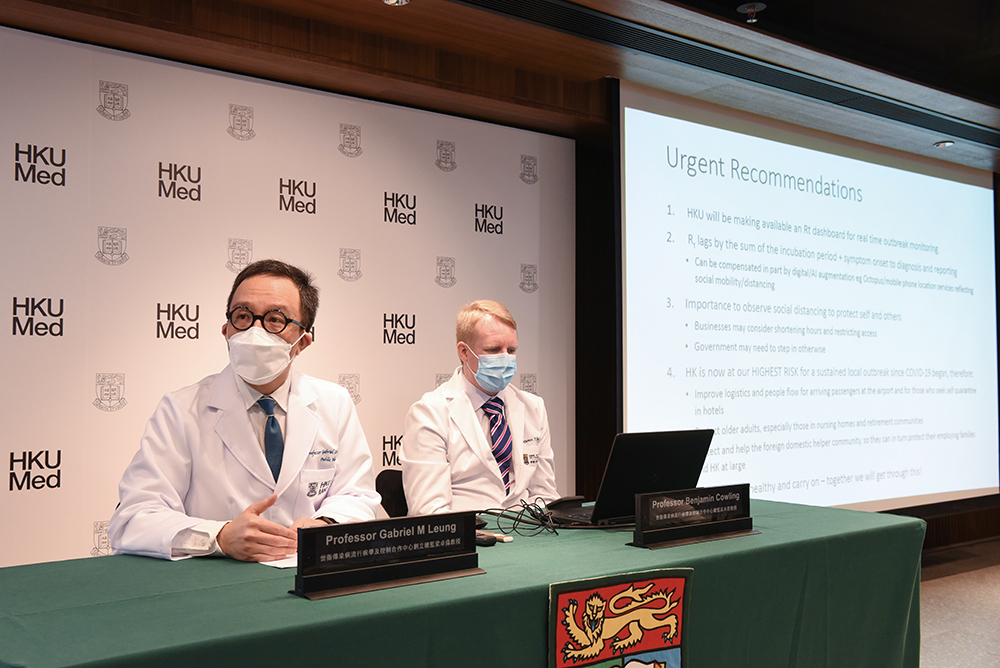 Professor Gabriel Leung (left) and Professor Ben Cowling (right) releasing a real-time situation report based on the instantaneous effective reproductive number of COVID-19.
Far from over

A vaccine would of course be a game changer by bringing this pandemic under control. "A vaccine for coronavirus will be a challenge," Professor Peiris said, "but if an effective vaccine is developed, it is likely to remain effective long-term, unlike vaccines for influenza, because the mutation rate is lower than that for flu and also because the protective antibody binds exactly at the site where the virus binds to the cell. This means the virus cannot afford to mutate at that site."

Research on a vaccine as well as the pathogenesis and treatment for COVID-19 will be facilitated by other new discoveries in the Faculty, including the pioneering use of an ex vivo human lung explant model to study SARS-CoV-2 and other viruses, and the development of a hamster model that responds in a similar way as humans to the virus. Further work on the latter has already shown that blood plasma from recovered hamsters could be injected into sick hamsters to lower their viral load.

Apart from continuing to make new discoveries about the virus, HKUMed scholars are also providing expertise in other ways to help society cope with the outbreak. They deliver weekly briefings to the Hong Kong government on the latest local situation; a real-time dashboard of COVID-19 cases in Hong Kong, including a breakdown of sources of cases and outcomes; and regular information and advice to the WHO.

"The threat from this outbreak is far from over," said Professor Leung, who has predicted it could last at least 18 months. Like everyone, he is on his guard – masking up, wiping down and diligently washing his hands, while sustaining energy for the work ahead. "Usually people in my line of work might count themselves lucky or unlucky to have one big global epidemic in their career, depending on which perspective you take. To have four in the space of 17 years – SARS, influenza A(H1N1) and A(H7N9) and now COVID-19 – it's rather too much," he said.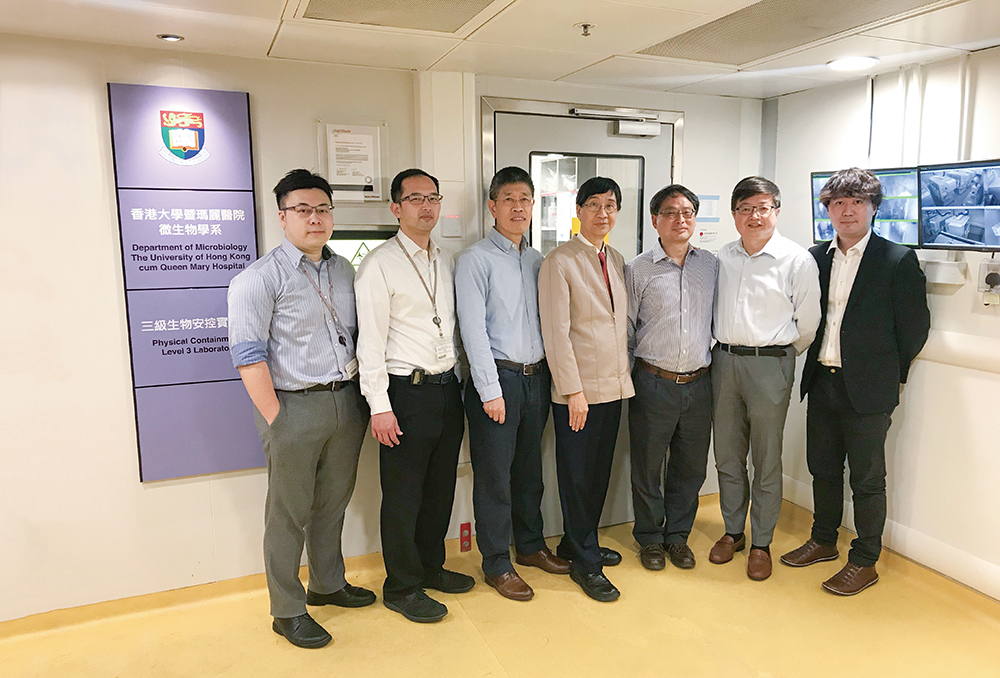 The HKU State Key Laboratory for Emerging Infectious Diseases has partnered with the global Coalition for Epidemic Preparedness Innovations to rapidly develop a vaccine candidate against COVID-19.

The School of Public Health shares the visualised statistics of COVID-19 in Hong Kong on a real-time dashboard. Up-to-date figures from the real-time dashboard can be found here.
It was because of the accumulation of virus genomic information from our years of work on emerging infectious diseases that we were able to produce a very good diagnostic test for this family cluster of COVID-19.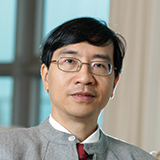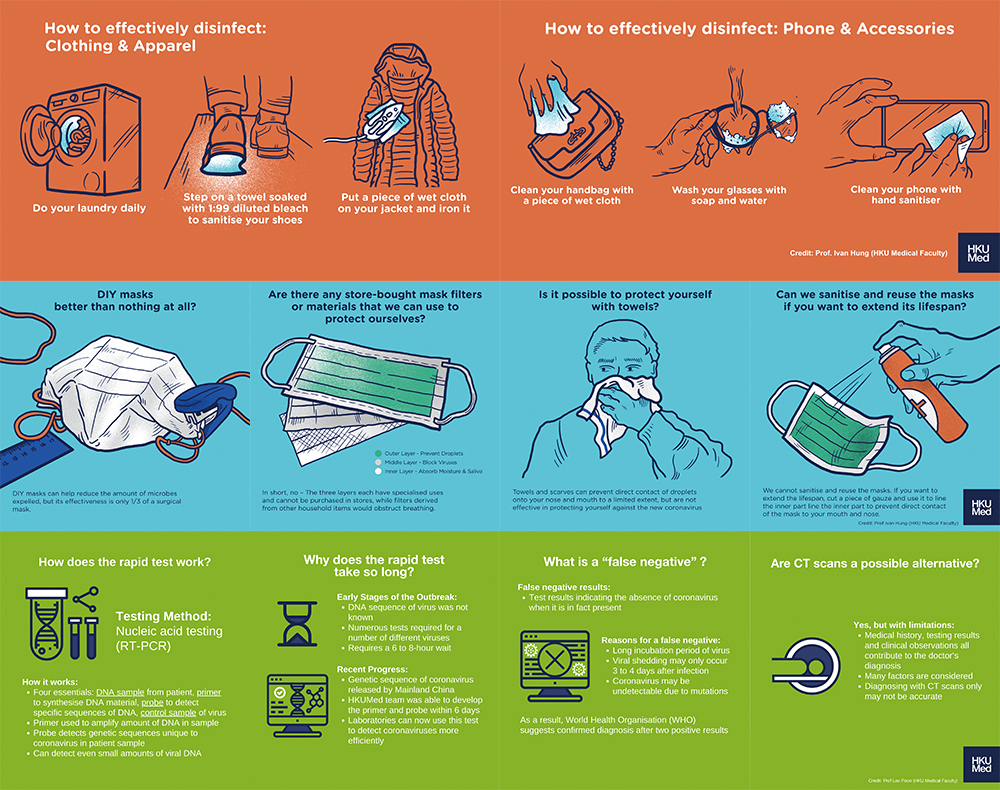 HKUMed has produced a series of 'Healthographics' with expert advice and health tips for sharing on different social media platforms.
RESEARCH HIGHLIGHTS ON COVID-19*

HKUMed's microbiologists and public health scholars have been working with collaborators in Hong Kong and around the world to improve the understanding of the disease, identify treatments, assess effective ways to manage the outbreak, and search for a vaccine. The findings have been published in such high-impact journals as The Lancet, The New England Journal of Medicine and Nature (a full up-to-date list is available at https://www.med.hku.hk/en/COVID-19/research). During the first three months of the outbreak, their achievements included:

• Firsts: Produced the first family cluster evidence of person-to-person transmission based on patients at the HKU-Shenzhen Hospital; the first epidemiology report on COVID-19; the first electron microscope images of the COVID-19 virus; and the first mathematical dispersion model of the potential spread of COVID-19.

• Tests: Developed rapid nucleic acid amplification tests that have been requested by public health laboratories in more than 70 countries and territories. The tests are freely available through HKUMed and the WHO. Also developed a hamster model for research on the SARS-CoV-2 virus that is more physiological than the transgenic mice model and is more accessible than macaque models, and used an ex vivo human lung explant model to demonstrate why SARS-CoV-2 produces relatively milder symptoms and has higher transmissibility than the 2003 SARS-CoV.

• Diagnosis: Produced more than a dozen published reports on diagnosing COVID-19, such as the viral dynamics in mild and severe cases, detecting the disease in children, and estimating clinical severity. Also showed that a deep throat saliva sample taken in early morning is effective for diagnosing and monitoring COVID-19 infection.

• Transmission: Produced multiple reports on the spread of the disease, such as transmission dynamics, the effectiveness of measures such as social distancing in previous influenza pandemics, and the effectiveness of surgical face masks in preventing transmission of human coronaviruses and influenza viruses.

• WHO Team and National Team: Two HKUMed staff (Professor Leung and Professor Yuen) were appointed to the 25-member WHO-China Joint Mission, and with experts from around the world visited five cities over two weeks in February to assess the state of the epidemic in China and the effectiveness of its response. These same two HKU experts are also part of the Chinese National Experts Group.

• Analysis and more: Contributed analyses of the international governance structures needed to address the pandemic threat. Also produced studies on other aspects of COVID-19, such as identifying the Malaysian pangolin as a possible source.

• Trials: Announced plans for a clinical trial on a possible target drug (through the HKU Clinical Trials Centre) and vaccine (through the State Key Laboratory for Emerging Infectious Diseases).

*As at April 12, 2020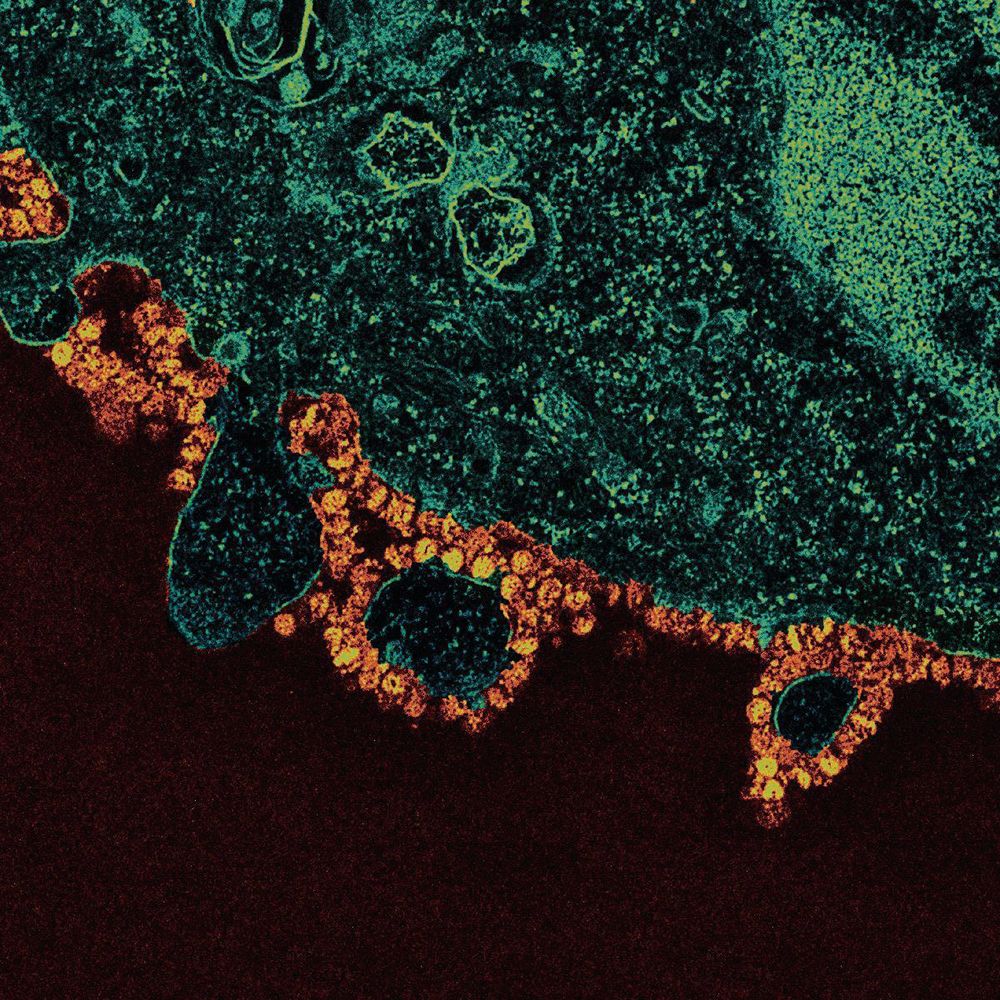 Pseudo-colour thin-section electron micrograph of the 2019 novel coronavirus grown in cells at the University of Hong Kong. The image shows part of a virus infected cell grown in culture with multiple virus particles being released from the cell surface. Each infected cell produces thousands of new infectious virus particles which can go on to infect new cells.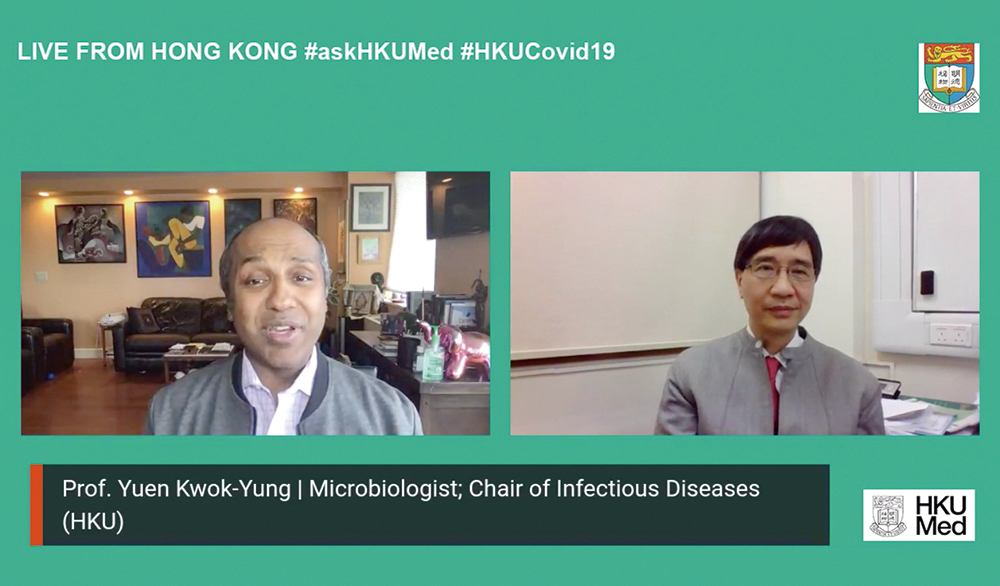 'Live from Hong Kong' broadcasts an interview with Professor Yuen Kwok-yung on 'masks and other lessons from Asia'.
HKU RESPONDS TO THE OUTBREAK

The University has sought to provide the Hong Kong and global communities with accurate information and advice, while maintaining teaching and learning activities online. Details of the following highlights are available on the Fight COVID-19 website, which is regularly updated and received more than 5,000 views per day during its first two months (up to early April).

• Fact-checking: The student-led Annie Lab of the Journalism and Media Studies Centre (JMSC) is part of the International Fact-Checking Network and its #CoronaVirusFactsAlliance, which is working to combat misinformation about COVID-19. Alliance members also include Agence France-Presse, Politico and news agencies from around the world.

• Health advice: HKUMed and its experts have provided advice and answered questions from the community on how to wear a mask correctly, wash hands properly, maintain good health, help children stay healthy and other issues of concern. The real-time dashboard also provides the latest information on cases in Hong Kong, such as age, source, onset and outcome.

• Relief Fund: The University has set up a Relief Fund to support students and community members in need, with a target of HK$10 million; HKU President Xiang Zhang and his senior management team have pledged 10 per cent of their salaries over 12 months and are encouraging HKU staff and other members to contribute as well.

• Supporting the community: The LoveHK LoveU campaign was launched by HKU's Admissions and Academic Liaison Section to provide tangible support and advice to the Hong Kong community on COVID-19. One platform, ShareWithU, collects anti-epidemic materials such as face masks from HKU members, alumni and partner organisations, which are distributed by students to people in need. Another platform, StandByU, offers health tips and live sessions, including professional medical advice, chatrooms for student support, well-being and counselling, and live chats by HKU top-scorers offering studying tips to HKDSE and IB candidates.

• Free mindfulness practice guides: The Jockey Club 'Peace and Awareness' Mindfulness Culture in Schools Initiative at HKU has provided a mindfulness resources package with practice guides for the public.

• Free home-based exercise videos: The 'Exercise is Medicine on Campus' initiative of HKU's Centre for Sports and Exercise has produced a series of videos on home-based stretching, relaxation, mobility and circuit training exercises.

• E-learning tools and tips: The Faculty of Education and HKU's Technology-Enriched Learning Initiative have been providing support to colleagues and the wider community, such as guidance on how to apply technologies in effective and interactive ways for online teaching and student collaboration, how to convert a blended learning design course into a fully online course, links to arts and culture learning sites, and free online videos on documentary filmmaking and appreciation (through the JMSC).

• Learn more: HKU has 17 MOOCs (massive open online courses), which are designed and taught by HKU academics and available for free on the Coursera and edX platforms. Two MOOCs are particularly timely – Epidemics I and Epidemics II – led by the Dean of Medicine, Professor Gabriel Leung. The latter is a new addition and focusses on COVID-19. In addition, the online 'Live from Hong Kong' broadcasts interviews with HKU experts on issues related to the pandemic to countries around the world. The first three programmes featured Professor Richard YC Wong, Philip Wong Kennedy Wong Professor in Political Economy from the Faculty of Business and Economics, and Professor Gabriel Leung and Professor Yuen Kwok-yung from the Faculty of Medicine, and attracted about 280,000 views. The 'Podcast COVID19 with HKU' also reports on the University's latest research related to the pandemic.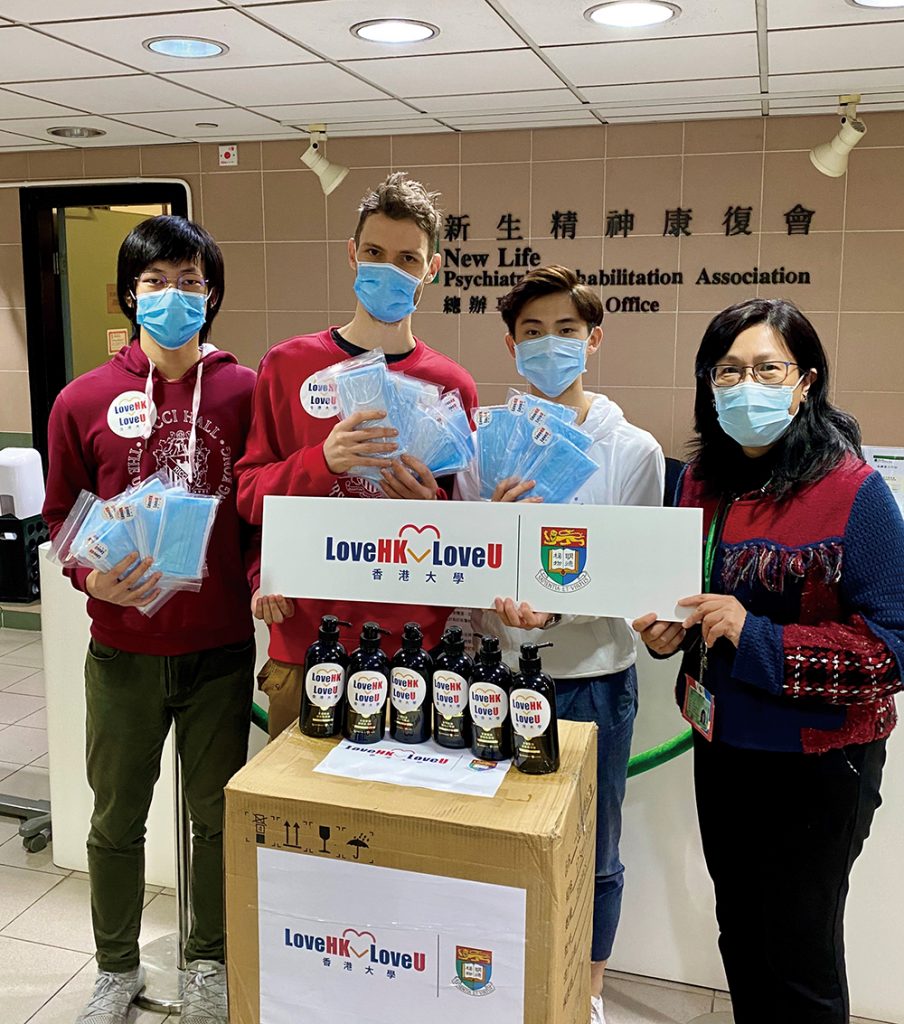 The University has launched the LoveHK LoveU campaign in which the ShareWithU platform helps those in need by matching up resources from those who are willing to share. The collected materials were distributed to charitable institutions by HKU student volunteer teams.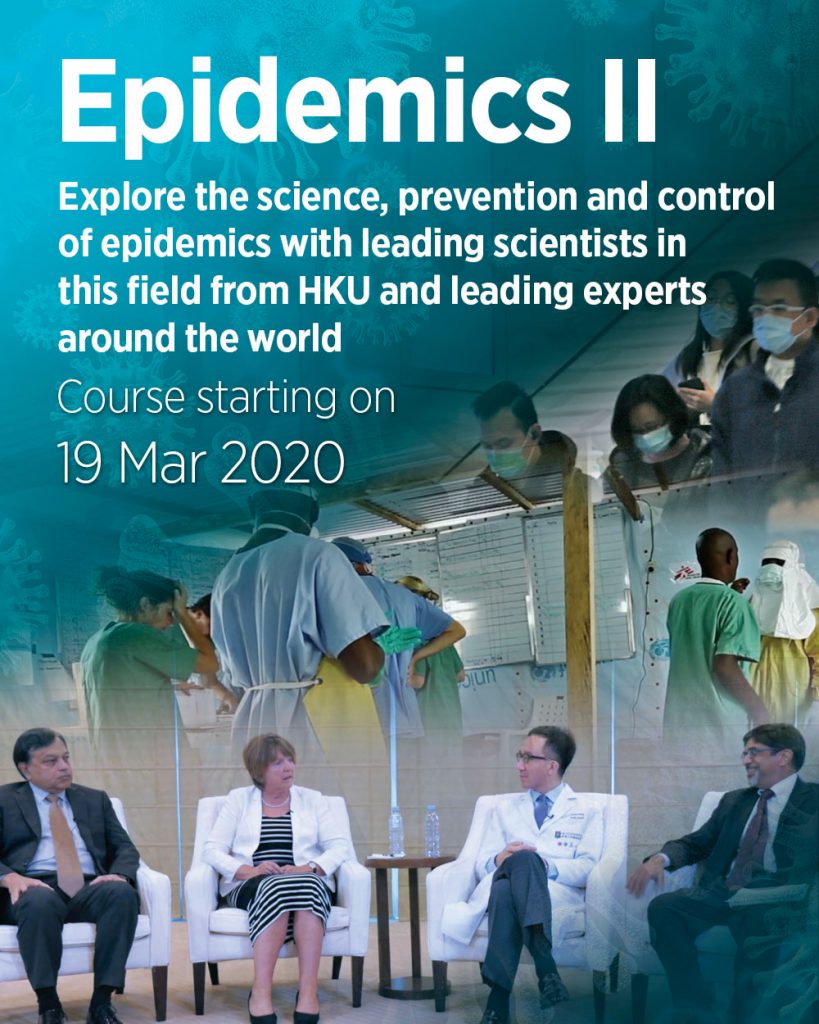 Epidemic II looks at the fundamental scientific principles underlying epidemics and the public health actions behind their prevention and control in the 21st century, with follow-up discussions and supplementary content on how these concepts may be helpful in better understanding the COVID-19 outbreak.